Operations Coordinator Job Description & Duties with Resume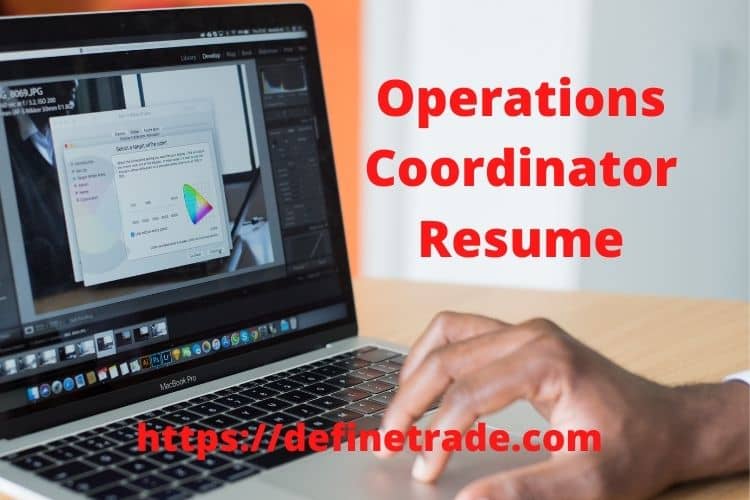 An Operation Coordinator is a person who is responsible for organizing and synchronizing the regular activities of managers and administrators in an office or business. Unlike an actual operation manager, the coordinator makes sure that the goals and meetings of each department are right on schedule. The key job of an operation coordinator is to allocate the faults and setbacks of a meeting or conference and inform the authorities before time to change them or update according to the situation.
It would be much simple if we tell you that an operations coordinator is also called an event or information coordinator. It's not uncommon for a company to change rules and strategies right in the middle of an ongoing project and in that kind of situation, the Operations Coordinator has to play a vital role by implementing those changes, creating new strategies and making sure that it doesn't affect the departments too much.
Although it changes according to the working of the company generally the duties of an Operations Coordinator include:
Assisting the daily operations inside the office such as work order generation, vehicle scheduling, shipping and receiving of products and items, mail pickup and delivery and preparation of conferences room documents for an upcoming meeting.
Doing a number of clerical tasks too such as pricing, billing, handling cash, providing customer services and making reports.
Keeping the employees on track by overseeing their work and analyzing their performance on regular basis.
Assisting the HR department with interviewing, hiring and training new staff and after that assigning them the work they are hired to do.
Supervising the work activities and suggesting implementing changes which will make the output more effective.
Helping the staff members and employees by responding to their call and resolving the issues they are having either with the company or another employee.
Assisting the payroll department in order to prepare employee's duty hour sheets and making sure that everyone is getting paid with right amount that they earned.
As the working of every company is different so the on job duties of operations coordinators are different too. Their salaries mainly depend upon the type of company they are working in and the number of tasks they are assigned to. A company with a large number of employees has more responsibilities and their coordinators get higher salaries as companies to a company that has lesser employees and small administration. Generally, an operations coordinator earns about $40000 per year which goes up to $50000 in case the company is very large and he is assigned to some additional tasks too.
Key elements to include in an Operations Coordinator Resume:
Create a resume with separate section for each kind of information.
Start from the top with the personal and contact information section in which you provide your basic information like name, father's name, nationality and contact information like phone numbers and mail addresses.
Always write a new objective for each job you are applying for. This is not a good act of copying an old objective from a previous application. Think about your abilities and skills and pour down your words on the paper.
Now it's time you discuss your previous jobs. Start with the most recent job and discuss every job that is related either to payroll or administration. Put job title, company name and duration you spend in each company.
If your previous employer has awarded you a certificate, medal or trophy because of your performance, mention that here.
In the education area, write about your studies and short courses about project management you attended. Start with the professional degree and go up to graduation. Put institution name, course name and passing year for each degree.
Special skills you have such as time management or arranging multiple projects at a time are worth mentioning here. This will stand you different among other applicants.
Elements not to include in an Operations Coordinator Resume:
Don't send the resume without proofreading it. You should do it twice and better ask someone else to do it for you.
Remove any grammatical or spellings mistakes and you can get from literature, dictionary and encyclopedia.
Unless you are damn sure, don't discuss facts and figures as there is a risk of mistake all the time.
Don't add any personal information which is not relevant such as hobbies or favorite music.
Don't provide a long list of skills as this makes you look unprofessional. Discuss some of them and save the remaining for interview.