Advertising Coordinator Job Description, Duties and Resume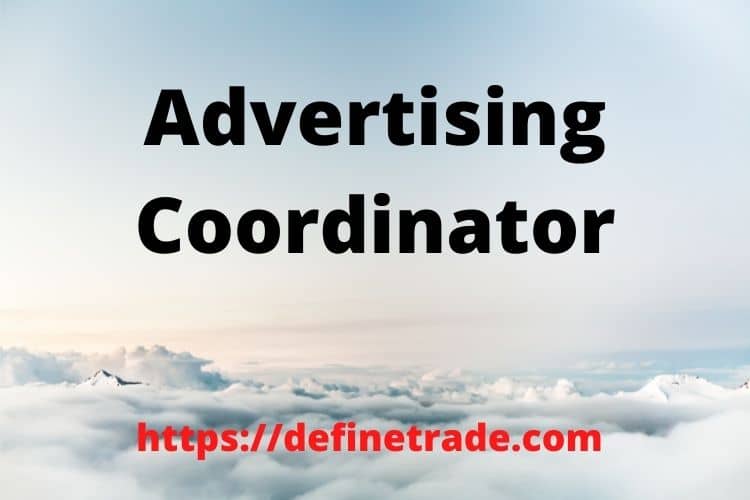 The job description and duties of an Advertising Coordinator vary and depend upon many factors i.e. type and size of the company and its location. Generally, an Advertising Coordinator supports marketing efforts and completes projects by keeping the ream with per-planned schedules. He is the one who acts as a liaison between the advertisement firm and the clients in the market. Where in some other companies, he may have a number of duties such as having a post of art director as well as coordinator or supervising more than one department i.e. production, marketing,
HR. if we want to explain the Advertising Coordinator in simple words, we can say that he is the project manager. He supervises different project related activities from various divisions and keeps everything right on schedule. He is also the one who informs the client or give presentations to them time to time to keep them up to date with the project process.
When a company hires an Advertising Coordinator, he is supposed to perform a number of duties that may vary according to the company's needs and projects. He brings the clients to the company for business, to arrange a meeting where all the clients and the company administration and account manager give a brief description of the company and previous projects. This may be verbal talking or a slideshow presentation just to make it more interesting.
Once the client is agreed to give the project to the company, the coordinator creates an effective team according to the need of the project and time of completion. He keeps an eye on every step in the process of completing the project, assists his teammates, helps them to find an efficient way to do some task and maintain a peaceful environment inside the office.
If any employee has some issues either with the management or some other employee, it's job of the coordinator to take the case in his own hands and find out where the problem is. He is also required to prepare weekly or monthly reports about the completion of the project and the changes they are making due to a problem and present them to the clients and ask for their permission to make those changes.
As the duties and tasks of an advertising coordinator vary according to different companies, his salary varies too. Some companies give higher salaries to their coordinators whereas some of them don't. There are such companies out there that hire the advertising coordinators temporarily for a project and after that terminate them. Also some companies pay these coordinators regular salaries and some of them fix a rate per project. Generally, an advertising coordinator earns up to $50000 per year which goes up to $70000 in case of a big project or extra duties. As you gain experience in this field you may earn up to $100000 per year after two to three years of work a company.
Key Elements to include in an Advertising Coordinator Resume:
First you should choose an appropriate format of your resume i.e. Word or PDF and style of font. Stick with single fonts and avoid using different colors or fonts for each section.
Divide the resume in different sections and start with the information section where you put your name and contact information i.e. telephone number and mail address.
After that put an objective or better use a short summary of your career or an overview of previous experiences.
Here you put everything about your previous jobs by starting with the most recent job and putting the job title, company name and duration of your work there.
Now put details about your education history and same as the experience, start with the professional degree you earned and go back up to graduation. Put the name of the institution, year of passing and name of course.
During that time or your work, if you have attended courses like accounting, auditing, project management or computer skills, discuss that too so that you will have an extra edge among other applicants.
Elements not to include in an Advertising Coordinator Resume:
Don't send the resume without proofreading it more than once or better ask a friend to do it for you. This way you make sure that your resume doesn't contain any grammatical or spelling mistakes.
Don't add useless or irrelevant information in your resume and keep it as professional as possible. No one will have time to read about your hobbies or number of kids so avoid putting that.
There is nothing wrong with having less or no experience at all, you can leave the space blank but don't lie about anything.
Avoid using same words and sentences to describe the same detail more than once. Always use new words and creative sentences even if you want to tell the same thing again and again.