Health Service Coordinator Job Description Resume Duties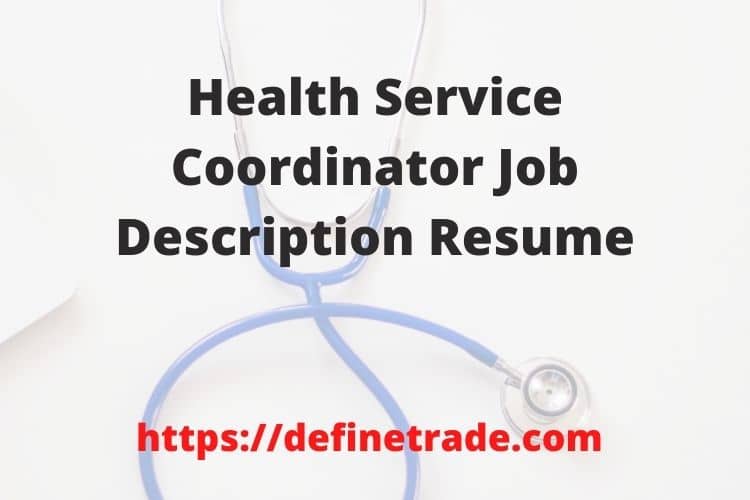 Usually, a services coordinator is a professional that represents the company to the clients. This position in general is between the supervisor and top-level manager. Same as that, a health services coordinator is a professional who acts as a bridge between the patient's family and the health services providers. Almost every hospital, private clinic and therapy centres have these coordinators in their facilities. When a patient is admitted to a hospital, he and his family usually have many questions and concerns about the services being provided in the hospital and the health services coordinator are the one that answers all those questions.
Job Responsibilities of Health Service Coordinator:
Being a health coordinator, the first responsibility of this professional is to get the training as a first aid administrator and for special medical treatments in case he has to treat an injured person on his own.
Providing proper treatment plans for the medically fragile patients and report to the student support services director.
Analyzing the situations including safety issues of students in an educational facility and preparing the treatment strategies for the victims involved in physical, sexual or drug problem.
Briefing the parents, teachers and others in order to make the safety of their children sure.
Briefing the patient and his family members about the policies of a hospital or a clinic and answering all the queries of incoming patients.
Try to handle the uncommon situations at the first step and not to involve the hire administration or staff members in a dispute.
Salary of Health Service Coordinator:
As the workplace changes for these professionals, their responsibilities change too. For example, a coordinator in a hospital has different duties and situations to handle as compared to a school coordinator or health coordinator in a football team. This way the salary of a health coordinator also varies as per his duties and tasks he is assigned. Generally, a health services coordinator earns about $70000 per year and it goes about $90000 after two to three years of experience.
Here are the guidelines to create a health service coordinator resume:
As you divide the resume into several different parts, start with the personal information section from the top. In this area you enter your basic and contact information such as name, DOB, phone number and mail addresses.
People usually write an objective in their health coordinator resume but you can also use a career summary in which you discuss a little about each and every job you had and the abilities you gained over the past few years.
In the employment history part, you provide information about jobs you had but only the related ones with the services coordination. Put the name of the company, your job title there and duration you spent in each company.
In the education section, write about your studies and extra courses you entered in besides the regular study. Start with the most recent degree and go up to graduation. Put institution name, course name and passing year for each degree.
Special skills you have such as speaking more than one language, excellent verbal communication ability and data entry skills. This will attract the recruiter and he surely will select you for an interview to see how much of that is true.
Elements not to include in this resume:
Don't put anything that is irrelevant or not professional. Giving too personal information like your favorites is not a good idea.
Keep your resume up to two pages and try your best not to exceed from that. If that's not possible, eliminate the less important stuff and save it for interview.
Don't discuss your expected salary figure on resume but save it later for the interview. There you will be given a chance to share what you like to earn from this job.
Proofread the resume twice before sending it out and remove the grammatical and spelling mistakes if there are any.