Clinical Research Coordinator Job Description and Resume Duties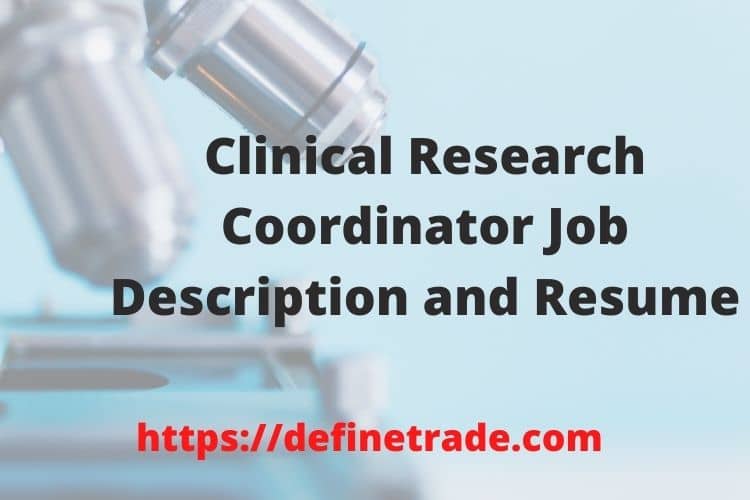 A clinical research coordinator is the one who is responsible for making sure that the trials in the clinic are being conducted using the best strategies and the employees are working on the given guidelines. In simple words, those who are appointed to this position make sure that the research is conducted in a safe manner, the results will be out before the deadline and all the instructions were followed during the process.
Although it's a medical job the research coordinator doesn't need to have a medical degree but a graduation diploma holder can also apply for this position. It's not a must but some pharmaceutical companies and research institutes prefer to hire those who have an advanced degree in nursing or research on this position.
Job Responsibilities of a Clinical Research Coordinator:
The key responsibility of a clinical research coordinator is to make sure that he is assisting all the researchers in the best possible way.
Assisting other departments to prepare and manage the research budget policies in the medical facility.
When a research is going to start, informing the patient and their family members about the possible outcomes and side effects of that research on the patient.
Evaluating the collected data and converting it into useful information and figures.
Supervising the study and other educational activities to make sure that all the rules and regulations are being followed and there is no violation.
Preparing monthly reports on the educational and study programs conducted inside the clinic or hospital.
Consulting other professionals regarding a finding in the lab and to discuss different aspects.
Keeping inventory of the research and experiment supplies and instruments in the lab and ordering new items before running out.
Salary of a Clinical Research Coordinator:
When we talk about a clinical research coordinator, we know that it's not that high profile job and the person in this position mainly perform the assistant duties. This is why the salary of a person in this position is not that good. Due to the lower salary figure, you can't be at this position if you want to support a family and you have to find a full time more professional job for that. This job is mainly done by students who want to have a part-time job to afford their studies or for extra pocket money. Mainly the salary of a coordinator depends upon the type and amount of tasks he is doing but generally, it's about $30000 per year. Many hospitals and clinics hire these coordinators on an hourly basis where one makes about $12 per hour.
Here are the Guidelines to create a Clinical Research Coordinator Resume:
Make separate sections for each kind of information and keep them separate from each other.
Start with information section in which you put your name and contact details like residential address and phone number. Always put this on top and don't use in between the paragraphs.
You have two choices like either you want to write an objective or want to go with career summary. In case of choosing second one, give a brief but short detail about your work history and a little about each and every job. If you want to write an objective, use your own words and write what you want to do on the job.
In the experience section, provide details of every related employment and start with the most recent job. Write job title, company name and employment duration is this section for each job.
In the educational section, you write about your studies and extra short courses you attend during college life. Start with the professional degree and discuss every important course. Give institution mane, course name and passing year for each degree.
If you have achieved some awards or something like that, mention that here.
If you have special skills like multi-language, fast typing speed or excellent communication skills, mention that too.
Elements not to include in this Resume:
Don't use a resume which contains more than one page.
Don't provide references unless you are asked to.
Don't put your experiences in dense paragraphs where it will be difficult to read and understand.
Don't discuss the salary figure you are expecting because this is the thing you will be asked in the interview.
If you had some problem at some job, don't include that employer in your reference list.
Sample Clinical Research Coordinator Resume:
Here is a preview of a Free Sample Clinical Research Coordinator Resume created using MS Word,