Money Saving tips For Students And for Salary Person.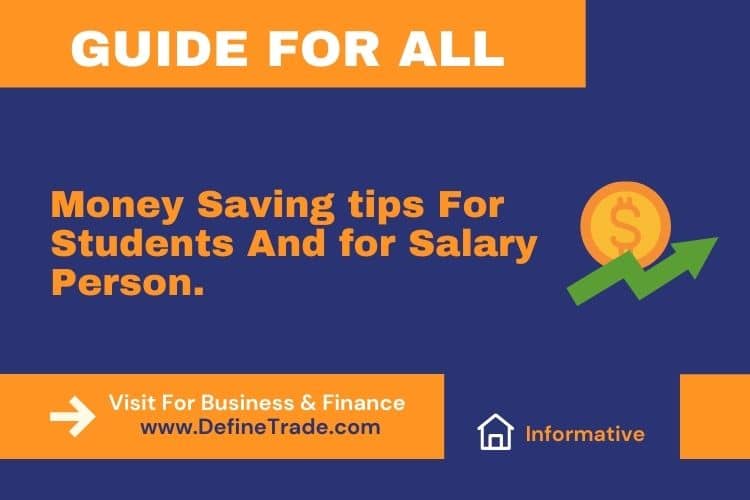 Are your financial obligations giving you headaches? Do you find it hard to sleep at night when you run out of money and the payday is still several days away? Well, if you think that you're at risk of suffering from financial anxiety better learn some money-saving tips. If you stick to these money-saving tips you will be able to spare yourself from any financial woes. Below are some money-saving tips that you can make use of in your daily living:
Don't keep on buying cooked foods outside. Take the time to cook your own meals at home. As you are already aware of, precooked and prepared foods from restaurants are more expensive. If you will be staying in the office all day, prepare something for lunch as well and just place this in your lunchbox. This will spare you from having to spend another amount of money to buy expensive foods outside.
Prepare your own coffee at home. You should learn to resist the impulse of buying coffee at Starbucks or any other coffee shop as much as possible. Grab your coffee powder and turn on your coffee maker. After several days, you'll realize that you already have saved some amount of money as compared to just buying coffee from coffee shops.
Stick to your shopping list. Don't just go to the grocery store and grab anything you can think of. Make a list at home of all the things that you NEED to buy. Prioritize this list and only buy what you WANT when you still have some extra money after you have purchased the necessary things.
Watch out for your bills. Pay these on time to avoid penalties and other charges for late payments. Place your notice of bill payments in a conspicuous place at home so you could see them easily and be always reminded of its due date.
Be wary of ATM fees. Make sure to withdraw money only from your bank's ATM machine. If you use other ATM machines you are at risk of being deducted large amounts for transaction fees.
Stop purchasing books or end your magazine subscriptions when you rarely have time for reading.
Most of the time, these magazines and books do not add knowledge to your brain as you don't have enough time to read them anyway. It only adds up to your financial anxiety and clutter at home.
Disconnect from the outlet those unused appliances. Some people make it a habit to just turn their appliances off without exerting any effort to unplug them from the outlet. This can result in higher electric bills.
As much as possible don't go out with friends too often. Once a week will do. But, if you go out with them every night, or on alternate days, you are at risk of spending more money on a drinking spree and for buying foods outside.
How to Save money in parking at Airport
If you're planning a trip abroad don't get stung by expensive airport parking costs and make sure you pre-book using an airport parking comparison website. The rising cost of airport parking is becoming more expensive than even the flights themselves. There are various ways to combat this and avoid the expense:
Make sure you plan ahead. Planning ahead can save you hundreds of pounds. If you just turn up on the day you will pay the maximum amount. By booking online beforehand you will get a much better deal.
Use an airport parking comparison website to compare parking companies. Comparison websites allow you to compare prices across a range of unconnected companies and find the cheapest deals.
Avoid busy periods if you can. Parking at an airport will be considerably more in the busy holiday periods than at off peak times.
Book in a car park which is off-site, away from the airport. Offsite car parks offer the best value and are usually far cheaper than parking closer to the airport in an on-site parking facility.
Use a park and ride airport transfer parking service. Meet and greet parking is generally the dearer option and park and ride usually the cheaper, although there can be exceptions occasionally.
Use an airport parking discount code. Discount codes are available through a number of comparison websites and can be obtained by signing up for the site's newsletter.
Consider not taking your car. This seems obvious but there are a variety of other options which you probably haven't considered:
If you're not that far away from the airport consider booking a taxi. Get a quote beforehand and compare this with other options.
Public transport is not always the most convenient option but might be a solution depending on your situation and which airport you are flying from. Airports such as Gatwick and Heathrow are continually encouraging public transport routes and their use is on the rise.
Park in my drive companies have list of people who live close to airports. These 'locals' hire out their parking spaces, drives and back yards for holiday makers and commuters and often run a taxi service in with the price.
If you're a biker consider taking your motorbike instead of your car to the airport. Parking is much cheaper and although this will definitely cut down on your luggage capacity, it is a real option if you're a light traveling biker!
Ask a friend to take you to the airport. This seems obvious but you probably know someone who would be happy to help. In return you could offer to do the same for them.
Car rental companies allow one way car rental. This means you can have a car brought to your house and drive it to the airport where you can simply ditch it! Providing of course the rental company agrees! Often airports have their own on-site car rental companies. This option can often be much cheaper than airport parking.
Tim Halloran is a writer for Looking4parking, an airport parking company based in Leeds offering nationwide airport parking comparisons. Try their Leeds Bradford Airport parking if you're in the area and be sure to use an airport parking discount code.