Top 15 Creative Content Marketing Strategies To Grow Your Small Businesses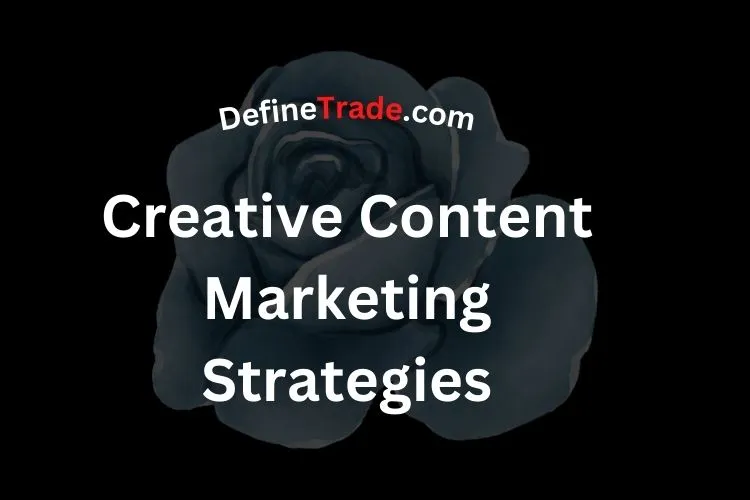 Content marketing strategies are the backbone of success for smaller businesses. But which strategies are the best?
According to a study, around 84% of businesses today rely on a content marketing strategy. Today, we're going to analyze the 15 key aspects of a good content marketing strategy and how you should be using them. So, let's dive right into it.
15 Creative Content Marketing Strategies For Small Businesses
Content marketing strategies come in many shapes and forms. So, let's talk about 15 such aspects:
1. Creating Audience Personas
Any marketing strategy requires the creator to make audience personas. These personas help content creators, marketers, and businesses direct their content creation on the right path. That's why you need to start off by creating audience personas that help you understand:
Figuring out key demographics;
Understanding the right platforms for your audience;
Using the right type of content.
Besides that, you also need to figure out the common challenges and problems faced by your target audience. That way, you can figure out how to properly serve each of those factors. Therefore, make sure you create thorough audience personas from the get-go.
2. Structure Your Content Each Time
Structuring your content has way more benefits than just SEO-related advantages. It makes your content easier to read and understand, so you need to structure it properly.
Sometimes, it becomes difficult to make your content easy to read but technology comes into the ground and offers a sentence rephraser.
This tool is purely dedicated to making your text easy to read and unique as well. But every time, you cannot rely on online tools. You must be known about the manual ways to structure the content.
So, how to do that?
Start with the headline or the title;
Create a subheading (H2) with the subject's definition (optional);
Create additional subheadings for your argument/topic's key factors;
Use additional subheadings like H3 and H4 to describe subpoints;
Focus on leaving whitespace on the page;
Use readable words, short sentences, and short paragraphs.
This process will allow you to create content that's easier to read and understand. So, structure it each time following this method.
3. Taking an Objective-Driven Approach
A lot of time, content creators and marketers fail at creating the right approach simply because they lack the understanding of their own objectives. In the beginning, a brand might have different objectives than a business that's been around for years.
But, a few common objectives of any marketing strategy today could be:
Generating organic traffic;
Standing out on search engine results page;
Getting higher click-through rates;
Getting higher retention and leads;
Converting leads into conversions.
These could be your objectives, or one of them could be. So, the idea is to decide where your strategy will go and head in that direction.
4. Setup Google Business Profile
Google Business Profile allows businesses to make the most out of Google's platforms. For a new business, it's important to use this tool, as it can put them on the radar of their target audience. So, why do you need this tool?
It allows you to put your business on the map;
It helps you save key services and products on your Google SERP profile;
It helps you post updates and even accept orders online.
Therefore, using this tool should be one of your priorities, as it can help you stand out in Google searches.
5. Use Social Media Networks Profusely
Social media networks are your best friends in the online world, and you need to use them thoroughly. Granted, some social media networks are more suited for business-related work than others, but all of them have the potential.
Therefore, you need to figure out which platforms you should use. For instance, Facebook and Instagram are ideal for all sorts of businesses. Whereas TikTok, Snapchat, and other platforms might be ideal for specific niches or industries.
The idea is to figure out which of the social media networks are ideal for your type of business and then use it.
6. Use Email Marketing
Email marketing has an ROI of 3600%. In other words, you earn $36 for every $1 that you invest in it. This should tell you about the abilities and prowess of this marketing tactic and why emailing is one of the prominent options in digital marketing in 2022.
That's why you need to use email marketing as a viable way to stand out against your target competitors. For one, it's a means of direct communication and awareness in your target audience.
For two, it doesn't cost as much as it can help you gain benefits. Therefore, emailing should be on your list of priorities.
7. Focus On On-Page SEO
On-page SEO is one of the most dependable ways of standing out in the online world. It allows you to create content in a way that'll generate organic traffic and help you stand out. So, here's an on-Page SEO checklist you should tend to:
Crawl your website and index it on Google;
Conduct a proper SEO audit to find out your website's shortcomings;
Update the URLs and metadata according to your niche/industry;
Use proper backlinks in your content;
Structure your content properly;
Ensure proper keyword density.
This way, you will be providing the right on-page SEO elements in your content—helping your content stand out when search engine crawlers index it.
8. Guest Blogging
Guest blogging is one of the easiest ways to stand out in any niche or audience. That's why you need to guest post on other blogs and allow other bloggers to guest post on yours. And the one key benefit of all this is the fact that you both earn a viable backlink.
But it's important that you create quality content by using a few tactics, such as:
Tend to specific content tones;
Avoid plagiarism in your content;
Ensure using the right stats, facts, or infographics.
On top of that, it's important that you find blogging websites that are in your niche or relevant to it. Otherwise, you will end up gaining a backlink that may not be of much use to you.
And when it comes to the above-mentioned requirements, you must fulfil all of them before submission. Like if you are not sure about the uniqueness, you should check for plagiarism with the help of online tools.
It is important to check plagiarism because sometimes, a person can unintentionally use someone's content.
And the same goes with other factors like content tones and many more.
9. Use Ads & PPC
Ads and PPC (Pay-per-click) are two of the leading ad types in the online world. The first one is paid adverts, where you pay a specific amount to search engines, social media networks, or apps to show your ads.
The second method is to pay all those platforms based on the clicks that they generate for you. Both methods can work in any industry, and they are ideal for newer businesses or startups. So, you should be using them if you can afford them.
10. Use FAQs in your Content
FAQs or frequently asked questions are people's way of churning out additional information. Many websites and blogs use these at the end of their content to answer additional questions or questions that they might think arise in an audience's mind. Why do you need them?
To answer additional queries without wasting time;
To help your audience understand specific complexities;
To provide a further glimpse into your expertise in the industry;
To help you stand out against the competition.
Therefore, you can use them in blogs, website copies, and even emails. Therefore, you should be using FAQs to your advantage and provide further information to your customers.
11. User-Generated Content
User-generated content is one of the easiest ways to stand out in any niche or audience. As the name suggests, in this type, your audience plays an important part in generating content. So, it could be anything, such as:
Interactive infographics;
Content-based on polls and voting;
Content-based on popular demand;
Content is made with voices, images, videos, or any input from the audience.
There are countless possibilities and plenty of chances for creativity. So, it's up to you to make the most out of it.
12. Success Stories
People really like to hear success stories. Nothing will make an impact on a new business or brand like telling your story, something the audience can relate to. That's why you need to create one or use the one that you already have.
This way, you will be able to connect with your audience. Or, you can strategize telling each success story as it comes along. So, you have a constant means to keep your audience motivated to check out your content.
13. Focus on KPIs
KPIs or key performance indicators are a new business' best friend. They allow you to target your resources and channel your energy in the right direction. That's why you need to focus on KPIs and analyze which of your marketing aspects outperforms the other.
14. Use Metrics
Lastly, make sure you use metrics and analyses to your benefit. This includes using Google Search Console and other methods to figure out how to improve your website. It also affects your overall presence on the internet, including blogs, social media, etc.
Conclusion
These are the fifteen best strategies that any marketer or new business can use today to stand out. All of these creative strategies are thoroughly employed by businesses around the globe today to stand out. Therefore, make sure you dive into each one thoroughly, understand its key aspects and use it in your main marketing strategy.