Brokerage Broker Types Functions Characteristics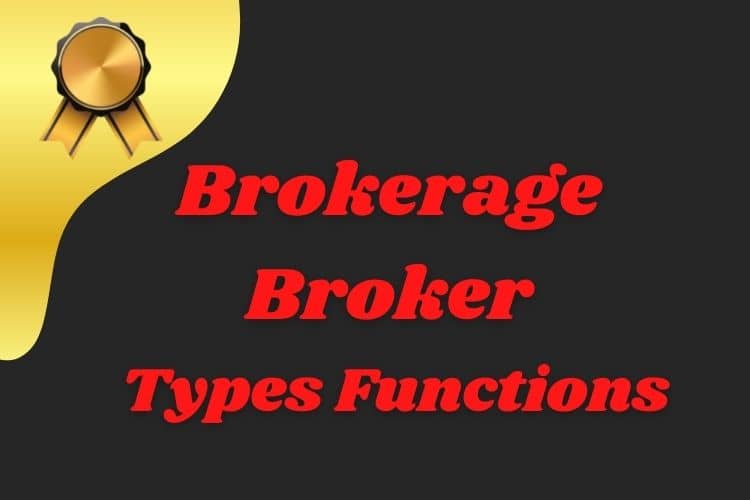 A brokerage account i.e, a Demat account is necessary for trading and investing in the share market. An investor must open a trading account with a registered stock brokerage company. A Demat account is an account wherein an investor can hold securities whereas a trading account is an account for buying and selling shares. An investor can open a trading or Demat account with a brokerage company. Comprehensive knowledge about the best brokerage account and how to open a brokerage account in India can enable one to make an informed decision.
What is a Brokerage?
A brokerage is an intermediary service provided in several areas, such as; purchasing real estate, investing, or obtaining a loan. A broker is a person or firm which connects a buyer and a seller to facilitate a trade.
Functions of a Brokerage
The primary purpose is to provide a solution for the client's need for a fee. But, we have other broker duties which exist today. A broker can:
Create a technical base to make transactions on the exchange.
Provide protection and storage of customer data.
Give lending services to clients for margin transactions.
Provide information support about the situation on trading platforms, sending notifications about trade and quoting mechanisms.
Execute trades on the financial markets on behalf and at the customer's expense.
Broker firms carry out more services in addition to mediation. The financial market would not exist without a broker.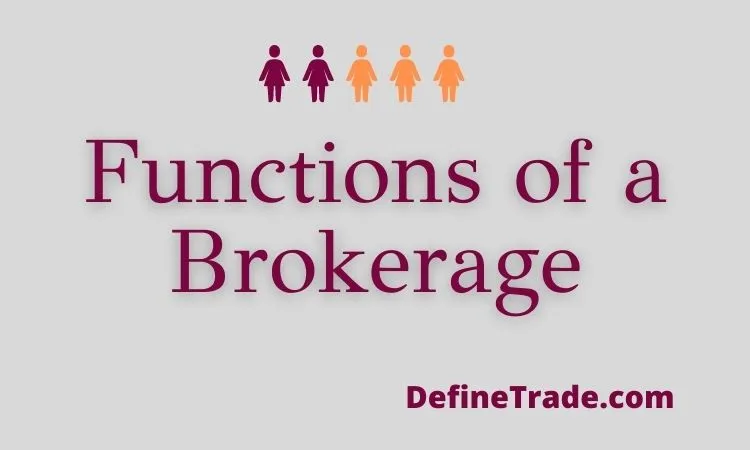 Types of Brokers
Brokers can be categorized into three main types:
1. Full-service brokers
A full-service broker provides several professional duties to customers, such as equity researching, investment advisory, tax tips, etc.
2. Discount brokers
A discount broker is a stock trading broker who assists in selling and buying orders at a minimum commission rate.
Characteristics/benefits of brokerage
First of all, the online trading brokerage can serve convenience. Some people consider the discrete yet gainful brokerage method easy and simple.
The site's interface is easy to use and navigate; online customer representatives are also responsive.
Service and usability have now become a possibility when it comes to interactive brokerage. Most conventional brokerage firms have begun to offer online trading brokerage to keep up with the day's hi-tech brokerage industry.
Some brokerage groups still maintain a local office so that stockholders can drop by to deposit money in person.
The easy method to handle money transactions is through an easy point-and-click email of checks.
Is it allowed to open multiple brokerage accounts in India?
Well, there are no restrictions on the number of brokerage accounts one can hold or open. An individual can open multiple brokerage accounts in India. However, before opening multiple brokerage accounts it is essential to know some intricacies about the best brokerage account, its features, fee structure and much more.
Important information about multiple brokerage accounts
Depository Participant: It is legal to open multiple Demat accounts in India but there are some restrictions to it. One cannot have the same depository participant for multiple accounts. This means an individual should have a different broker or depository participants for different brokerage accounts.
Detailed research about how to open a brokerage account in India, which are the best brokerage accounts, documents required for opening a Demat account etc is a must before opening a brokerage account.
Annual Maintenance Charges: Every stockbroker company has some annual maintenance charges to keep the brokerage account functional. The AMC charges vary from broker to broker. If you have multiple broker accounts then. You will have to bear multiple AMC charges to keep the account operational. The AMC charges of the brokerage company range from 700 to 1000.
Manage your portfolio systematically: One of the greatest benefits of multiple brokerage accounts is the ease that it proves. An individual can decide to be a long term investor by holding some select securities and can indulge in daily trading too. In such cases, having a separate account for long term investment and trading can prove to be lucrative. It can enable one to keep track of the investment as well as trading portfolio.
Access to a variety of services: Each stock brokerage company is different in terms of its service, platform, charges, structure and much more. Having multiple brokerage accounts can enable one to access the multiple services offered by the professionals. It can enable one to enjoy the best of brokers and make correct decisions.
One gets multiple access to brokerage platforms, features, services and trading accounts by opening the best brokerage account with different stock brokers.
Keep your shares safe: Having multiple accounts with various brokerage companies can enable one to keep your shares safe. The stockbroker or DP has no control over the holdings in your account. The shares that an individual buys are held with the depository. The two depositories in India are National Securities Depository Ltd (NSDL) and Central Securities Depository Ltd (CDSL). When an investor buys a share, it is held by either NSDL or CDSL.
Regularly monitor balance: Keeping a track of the shares is vital. For an investor who holds multiple brokerage accounts, it is a little tedious and stressful task to keep a record of different accounts and manage brokerage charges. Hence, one must think and analyse carefully before opening multiple brokerage accounts.
Documentation: To open multiple Demat accounts, one will have to submit all the necessary documents to various stock brokerage companies. Documentation and verification processes are often stressful and tedious. In addition to this, if you don't use the brokerage account regularly it may get frozen and to reactivate the same one will have to complete the process.
The key takeaway
In India, an individual can open multiple brokerage accounts with different stock brokers. However, it is imperative to do complete research and find the best brokerage account to make the right choice.